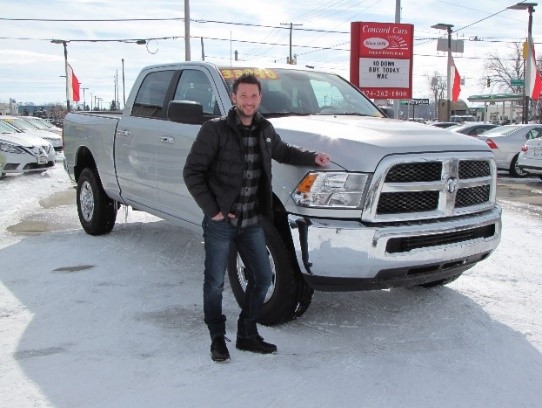 Concord Cars aims to separate itself from other automobile dealerships with its locations throughout the Michiana area, its sizable inventory, its knowledgeable staff and its financial transparency.
All those factors are aimed at making the car-buying experience easy, honest and hassle free, said Dave Jamesen, owner of the dealership which includes two locations in Elkhart, one in Goshen and another in South Bend.
Always an entrepreneur, Jamesen got his start in the transportation business when he started fixing up and reselling old bikes. By high school, he moved to automobiles and landed at Concord Cars, which was operating on a gravel lot on the south side of Elkhart.
Jamesen eventually became a partner in the business and ended up buying it outright in 1999. Since then, he has concentrated on expanding his footprint in the Michiana area and perfecting his business model.
Beyond having convenient locations, Jamesen works to have the largest inventory of gently used vehicles in the region. At any given time, the four locations have well over 400 cars available and dozens more are being prepped and undergoing a 104-point inspection.
Most of the vehicles are coming in off lease and still have factory warranty available, though an extended warranty is available for additional peace of mind, said Mike Vidmar, business development manager of the dealership. A vehicle history report is also available.
Through his decades in the business, Jamesen has the contacts to know what vehicles are coming up for auction across the country. And from his desk in Elkhart, he might be participating in several on any given day.
Jamesen initially focused on offering only the most popular cars, trucks and SUVs but lately he also started branching into very gently used luxury vehicles as well.
Because nearly all of the vehicles still have factory warranty and have undergone a thorough inspection, there generally are few problems securing financing for well-qualified customers. But the dealership also works with those who have had some issues, in some cases advising them on how to solve those problems so that they can secure a lower interest rate.
Besides looking for excellent deals, Concord Cars also keeps its costs down by operating its four locations with fewer than 30 employees. Unlike most dealerships, the sales staff at Concord is capable of appraising trade-ins, closing the deal and completing most of the paperwork.
"We focus on keeping things simple and efficient so we can keep prices down," said Vidmar, adding that Concord Cars also happens to be among the highest rated dealerships in Indiana when it comes to customer satisfaction.
"Prices are generally listed on the vehicles," he said. "We want to keep everything to be transparent so customers know exactly what they'll be paying. We want them to be repeat customers."